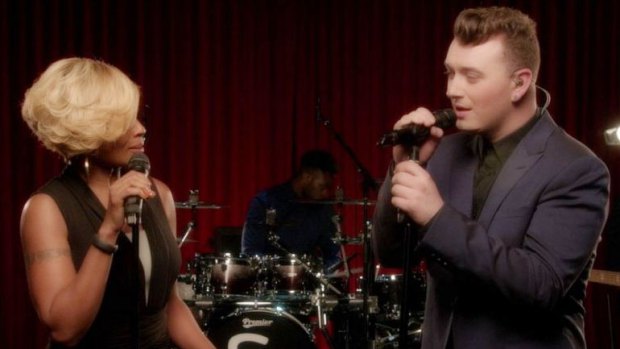 Check out the latest from the talented singer/songwriter Sam Smith, with the music video for his latest single, "Stay With Me". However, this version is featuring the amazing and beautifully talented Mary J Blige. This special feature version is going to be used in the US market to promote Sam Smith, makes sense and is a similar tactic used with Disclosure , on "F for You".
The track is part of his debut studio album 'In the Lonely Hour', set to drop May 26, 2014. "Stay With Me" is the follow-up the previous single, "Money On My Mind," from the singer that topped the charts in the UK and has garnered some serious attention here in the states. "Stay With Me" however is the first of his singles to officially impact US radio and we can't wait to see what happens. His voice is beautiful, it's a change from the norm and we need a new male on the scene that blows people away.
Sam's debut album 'In The Lonely Hour' is going to be a great one! With collabs with the likes of Fraser T Smith, Two Inch Punch, Eg White, Disclosure, Zane Lowe, Tourist to long-term writing partner Jimmy Napes. Our first listen of the album has kept it on repeat at the office for days on end. Sam, you have already won our hearts.
Watch the video below and pre-order the album 'In The Lonely Hour' out June 17 in the US.
iTunes: http://smarturl.it/SSlonelyiT
Amazon: http://po.st/gB10aC
Webstore: http://po.st/BISJto
Did you pre-order the album yet?