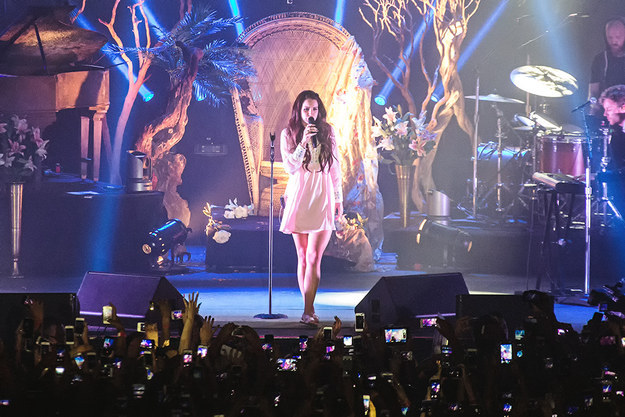 Today I am having some serious Lana Del Rey withdrawals, it's been a week since I witnessed her grace the stage of the Shrine in Los Angeles… Can we just go back already?
So, last week I got the chance to see one of my favorites, Lana Del Rey, perform thanks some awesome dudes over at Interscope/Universal. They had an extra ticket with my name on it and I didn't hesitate to jump on that opportunity. I had yet to see Lana perform live and had high hopes for what was to follow that Friday evening, I mean LANA DEL REY was performing, and I was going! I'm a Lana fan if you didn't know by now, but not as hardcore a fan as the kids that waited from the previous night in line just to get up front. That is a loyal fan.
The show was what you would imagine from Lana, absolutely beautiful, yet interesting and kinda weird. I mean the show started off with her lyric "my p***y tastes like pespi cola…" from her song "Cola", that set the stage for the rest of the epic evening. If you were at the show, you were either a super fan (show sold out in a min when tickets went on sale) or industry there to check out an artist. It was the place to be and be seen.
The fans are young, wild, and free… literally. They can get a little rowdy but I knew full well what I was getting into by going to a Del Rey show. What I didn't expect to be honest was the fans loyal full hearted love for Lana, it was kinda awesome and a little empowering to watch. They love her and she loves them.
Now I have been to plenty of shows in venues like the Shrine but Lana's just seem to work better than most. The combo of great songs, Lana's performance, and the crowds energy created a pretty awesome night. The show was just what I needed and the songs she sang were a perfect, some favorites, some new, and she finished with none other than "National Anthem". No encore. Perfection.
If you get the chance down the line to see her live, GO. Also if you are a fan or just enjoy some good music, grab Lana Del Rey's new album 'Ultraviolence' due out June 17. Pre-order on iTunes here: Smarturl.it/Ultraviolence
[separator type="thin"]
Video Games
Million Dollar Man
Ultraviolence (LQ)
National Anthem
Are you a Lana Del Rey fan?