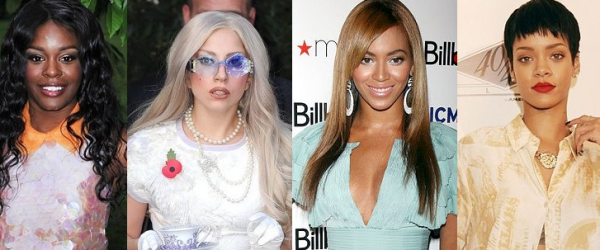 So one of our favorite blogs wrote about this today, MartianLeaks, and we did some research. It may really be legit.
Lady Gaga, Beyoncé, and Rihanna have all been going on about this "Ratchet" thing… Azealia Banks started the talk of a collab.
Knowing these ladies love to drop hints via social media… it could all be true.
This is how it goes down.
1. Azealia hints to doing a collab with Gaga
"I worked with Lady GaGa, but I worked with Lady GaGa from afar. We worked via email and via Internet. We have a song called 'Red Flame' and a song called 'Ratchet,' but I don't know what she's doing with it. She's going to release it when she wants to release it,"
2. Gaga teased about another team-up with Beyoncé… via twitter she talked about a sequel to "Telephone", then posting a photo of Ratchet earrings
3. Then Beyoncé instagramed a photo of Ratchet earrings
4. Rihanna finally joined the mix with her tweet about Ratchet and a "Paparazzi" reference
This could all be a bunch of bull… but we have seen less lead to a legit track dropping.
Here is a snippet of a remix track, supposedly the rumored "Ratchet" track… mind you no vocals.
It was posted by Power 106 Los Angeles radio personality Rikki Martinez here.
You hear about the new track with Beyoncé, Rihanna and Lady Gaga?? It's REAL and we got your first listen! #NeighborhoodNews @power106la

— Rikki Martinez (@RikkiMaa) January 22, 2013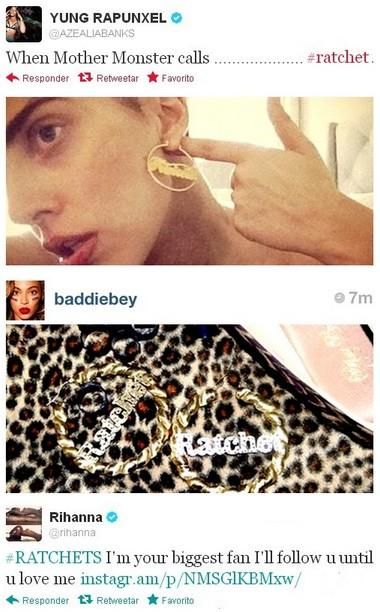 Sources: RikkiMartinez