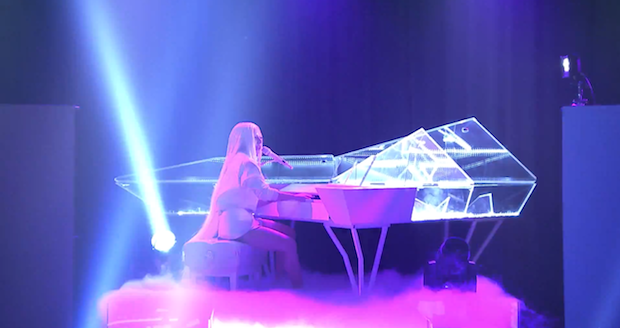 Check out Lady Gaga slay on The Tonight Show starring Jimmy Fallon, performing her title track, "ARTPOP", off her third studio album.
Well when everyone thought she had just gone and disappeared with the mess of the promo for her latest album 'ARTPOP', you were so mistaken… Watch below and for even a second, try to say this isn't some seriously amazing talent.
In all white, on a beautiful futuristic piano, Gaga sings her track in acoustic form that will shut down the haters. Walking down the stairs with that fog and the light… YASSSS! The fav was the dancers for only one move. yessss!
I CAN NOT WAIT for this tour, because this is the Gaga the world loves and needs. Oh and I'm a Gaga fan, more than the other writers on Beats4LA… #yourewelcome
Buy Lady Gaga's 'ARTPOP' now on iTunes: Smarturl.it/ARTPOPalbum
UPDATE: Added the audio embed version of the performance. **puts on repeat**
Thoughts?