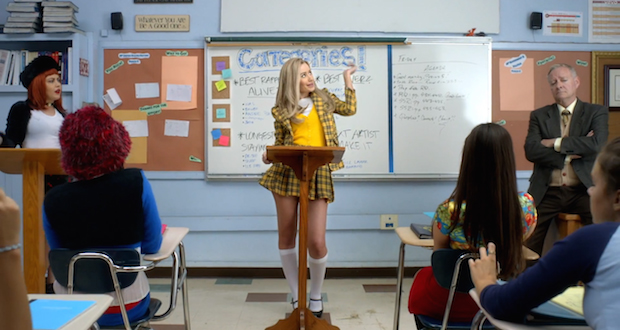 Check out the new video from Iggy Azalea for "Fancy" featuring Charli XCX… It's EVERYTHING! The video is a parody of the 90's cult classic 'Clueless,' in which Iggy plays homage to Cher in her iconic canary yellow get up, the lead role that was originally played by Alicia Silverstone in the movie. It's all sorts of perfect. We get all of our favorite scenes from the movie, remade with Iggy & Charli XCX singing along to the track. We're talking about the lunch scene, the class room, driving in her Jeep Wrangler, the tennis courts, cheer leading practice and more. Can you say Throwback Thursday.
Regardless if you like Iggy Azalea or Charli XCX, you will have to admit that this video is perfect for any 'Clueless' fan.
The track premiered on BBC Radio 1 Xtra on the Mistajam show on February 6, 2014. Now any Iggy fans that have payed attention would note that the track itself is just a final version of the leaked track "Leave It" that we got a few months back from Iggy, they just added Charli XCX.
Watch below and get all nostalgic and sh*t. Preorder the single off iTunes here -> Smarturl.it/IggyFancyiTunes
Thoughts?