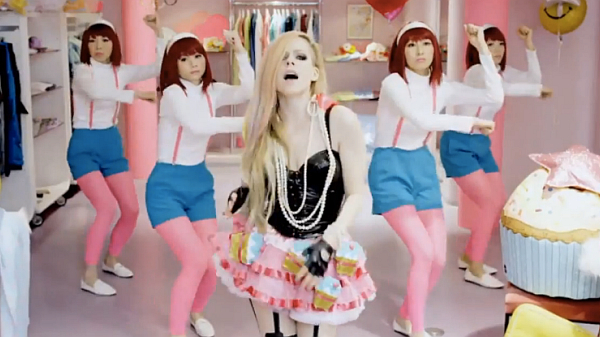 Check out the new music video for "Hello Kitty" from Avril Lavigne, her latest single off her self-titled fifth studio album. The album isn't doing well and to be honest, this video looks low-budget and nothing like we'd want from Avril.
Actually, the video has started to get lots of criticism from blogs worldwide. From her use of harajuko girls, that reminds many of when Gwen Stefani did years back (The Sweet Escape), which was more socially acceptable but still a no no. Now our only argument is that Avril has a strong Japanese following, so the whole concept make sense in that she is trying to reach that fan base… however looks like she failed. I guess as many have started to say blame Chad, you know Chad Kroger of Nickelback who is her husband and has influenced recent works like this one.
Watch below and let us know what you think.
Thoughts?